.

...For those who want to visit us, intending to spend time here, we offer them all conditions necessary to have a good time and make them wish to come back here. The housing is organized in rooms well equipped: bed for one persons (foldable) and for two persons (if needed); T.V., telephone, internet access, common bath with shower, cold and hot water. For those who wish to take lunch or dinner, we have a diverse traditional menu, most of them are from our own production (vegetables, milk products, meat of rabbit, pig, beef, bird meat).

.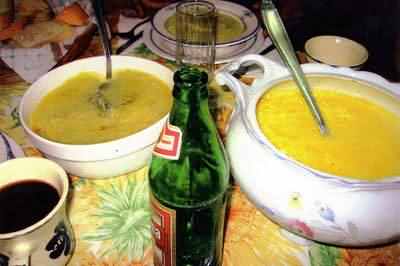 ...With the agreement of the Forest Range in the zone, it can be arranged to go trout fishing or animal or wild birds hunting. In summer to autumn, the forests and the nearby hills are waiting those willing to pick mushrooms, blackberries, raspberries, strawberries, bilberries, forest nuts from which you can make jam, stew or syrups, that you can make from our receipts.
...Because the administrator of the pension is hired at the Archeology Museum from the locality, he can offer information about the history and the touristic objectives in the area. The visiting of historical monuments in the locality is the major attraction for the Romanian and foreign tourists, when they are visiting the region, but these are not the only possibility of spending your spare time in Sarmizegetusa. In different periods of the year, those interested can take trips in Poiana Ruscai Mountains, Tarcului and Retezat Mountains, trips taken by foot, with a cart or with a sleigh which we can offer to you.